What is public history? Well, that question is more complicated than it may seem. Is it history shared with the broader public? Yes. Is it history designed for the broader public? Yes. Is it history created with the broader public? Yes.
Public history is its own discipline and sub-field. Good public history must first be good history. But the contours of the field, who is a public historian, and what counts as public history is often harder to quantify.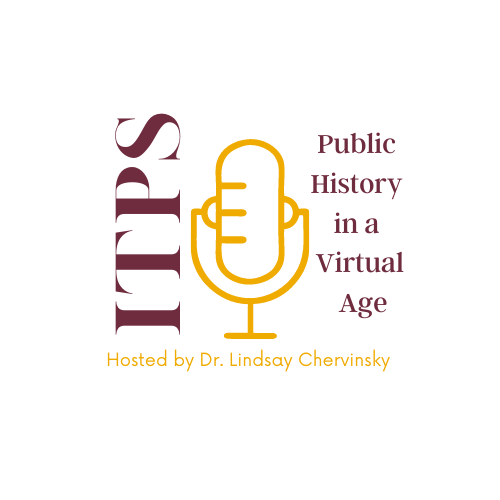 Over the course of the next several months, Public History in a Virtual Age will explore these questions. On each episode, we will meet a couple of awesome practitioners—or people involved in the making of public history. We will hear about their super cool projects, their audience, the information they want to share, and why they love their medium.
We will also talk about doing public history in a virtual world. It's no secret that COVID-19 has drastically shaped how all historians are doing their work. We will ask our experts what new programs they are exploring, how they are connecting with their community, and what they will keep after normal gathering behavior is permitted.
As the host of this program, I have a few goals for this series. First, I want anyone interested in history to see all of the incredible ways historical information can be shared and perhaps learn about a new podcast to listen to, a museum or historic site to visit, or a website to check out online.
Second, for those looking to work in the historical field, you've probably heard that the job market is pretty terrible. Well, that's true, but I think we are at an inflection point in the history field. We need to start being entrepreneurial and creative about our careers. We can't blindly follow the paths of generations that came before us. So, I wanted to share just a few of the limitless possibilities to create and disseminate historical knowledge. Maybe it will inspire you to try something new.
Finally, for those already working in history, I want to share some of the digital innovations of your peers in the hopes it might inspire your own work while we are still stuck at home.
Here are just some of the subjects we will cover this season:
podcasts
historic sites
oral histories
digital humanists
big museums
in-house historians and paper editors
public history in the classroom
interpreters
preservationists
public intellectuals
To kick off the series, we are focusing on history podcasts. Podcasts are the most popular way people absorb historical information (after books or articles perhaps). They come in all shapes and sizes, as well as the good, bad, and the ugly. They also occupy a rather odd place in the history field. They aren't treated as traditional public history, nor are they considered official scholarship. Yet everyone listens to them and can rattle off their favorites. So what's that about? Are podcasts public history?
On today's episode we'll talk with two podcast hosts. The first is Dr. Liz Covart, creator and host of Ben Franklin's World podcast—a podcast about Early American history. Dr. Covart now works with the Omohundro Institute of Early American History and Culture to produce Ben Franklin's World, which remains the model for history podcasts, even winning Best History Podcast at the Academy of Podcasters.
Our next guest is Dr. James Ambuske. Dr. Ambuske is the Director of the Center for Digital History at the Washington Library at Mount Vernon. Jim's story is a little different, he took over an existing podcast, Conversations at Mount Vernon, when he started his job and learned as he went—a common experience for many historians that work in the digital field.
You can listen to the first episode below. Please subscribe to the Institute for Thomas Paine Studies Podcast in all of your favorite apps, so you can be sure you won't miss a single episode! If you enjoy the ITPS pod, please be sure to share with your friends, family, and colleagues. Word of mouth and friendly recommendations are still the best way for podcasts to find new listeners.
If you have suggestions for guests or topics, or any questions about the series, you can contact Dr. Lindsay M. Chervinsky at lchervinsky [at] iona [dot] edu. Thank you for all of your encouragement and support!