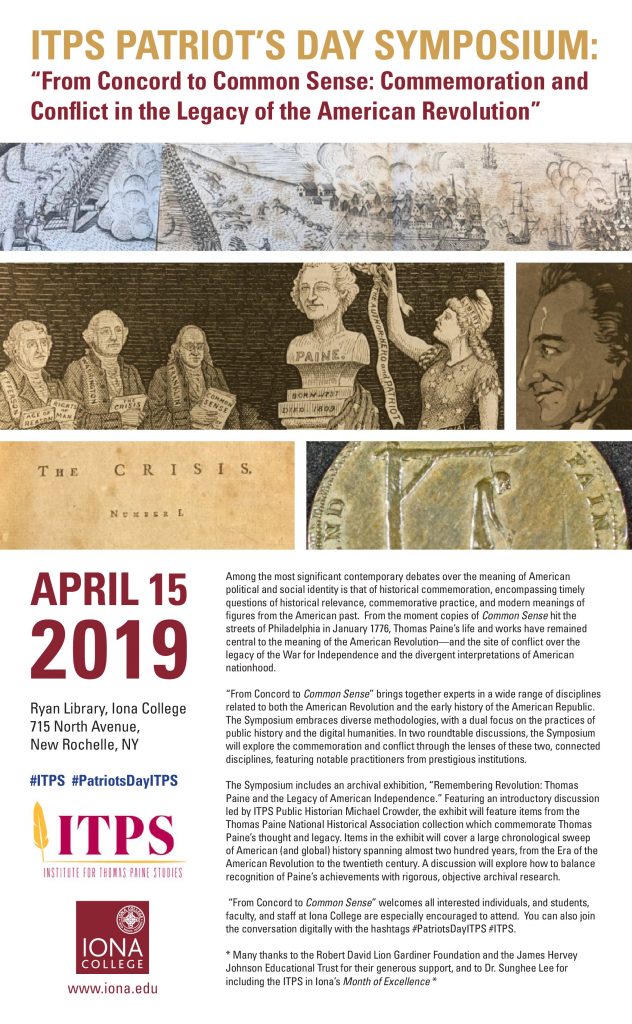 As part of the Iona Month of Excellence in Scholarly and Creative Activities "From Concord to Common Sense: Commemoration and Conflict in the Legacy of the American Revolution" explored the complex relationship between celebration and critique of the American war for independence. Inspired by the creation of Patriots' Day in the late nineteenth century, this symposium discussed how we remember the Revolutionary Era. A holiday celebrated in three states – and recognized locally in many others – Patriots' Day commemorates the battles of Lexington and Concord on the third Monday of April every year, recognizing them start of the American Revolution. Three roundtable discussions and an ITPS archival exhibit addressed questions of what commemoration means, the social role and responsibility of commemorative practices, and how evolving methodologies in the digital humanities and in public history influence our historical memory of events and figures—from Thomas Paine to the 21st century.
Roundtable One: Approaching Commemoration from Public History
9:30 – 11:00 a.m., Romita Auditorium, Ryan Library
Chair: Nora Slonimsky, Gardiner Assistant Professor of History and Director, ITPS.
Arin Amer, Doctoral Candidate in History, Graduate Center of the City University of New York and Co-Chair of The CUNY Public History Collective.
Devin Lander, New York State Historian, The New York State Museum.
Kathryn Lasdow, Assistant Professor of History and Director of the Public History Concentration, Suffolk University
Nina Nazionale, Director of Library Operations at the New-York Historical Society.
Amy Sopcak-Joseph, Doctoral Candidate in History, University of Connecticut and Co-Liaison from the Society for the History of Authorship, Reading & Publishing to the American Historical Association.
Whitney Stewart, Assistant Professor, University of Texas, Dallas, and Affiliate Faculty, Edith O'Donnell Institute of Art History.
Exhibit: Remembering Revolution: Thomas Paine and the Legacy of American Independence
11:15 a.m. – 12:15 p.m., Romita Auditorium, Ryan Library
Featuring an introductory discussion led by ITPS Public Historian Dr. Michael Crowder, the exhibit featured items from the Thomas Paine National Historical Association collection which commemorate Thomas Paine's thought and legacy. The discussion explored how to balance recognition of Paine's achievements with rigorous, objective archival research.
---
Lunch: 12:15 to 1:45 p.m.
---
Roundtable Two: Approaching Commemoration from the Digital Humanities: Integrating Multiple Methods
1:30 – 3:00 p.m., Romita Auditorium, Ryan Library
Chair: Jean Bauer, Digital Humanities Consultant and Former Research Director, Princeton Center for Digital Humanities.
Gary Berton, Coordinator, ITPS, and Lubomir Ivanov, Associate Professor of Computer Science, Iona College, discussing The Authorship Attribution Project (TAP) at the ITPS.
Will Fenton, Director of Scholarly Innovation at the Library Company of Philadelphia and Creative Director of Redrawing History: Indigenous Perspectives on Colonial America, funded by The Pew Center for Arts and Heritage.
Barry Goldberg, Research Fellow, Rockefeller Archive Center and Former Gardiner Post-Doctoral Fellow at the ITPS .
Aaron Noble, Senior Historian, New York State Museum.
Christy Potroff, Assistant Professor of English, Merrimack College and creator of the digital mapping project, "The U.S. Goes Postal: Mapping Union and War in the Antebellum Era."
Ben Wright, Assistant Professor of History, University of Texas, Dallas, and Co-Editor of The American Yawp.
Wrap-Up
3:00 – 3:30 p.m., Romita Auditorium and ITPS office (second floor, Ryan Library)
*Many thanks to the Robert David Lion Gardiner Foundation and the James Hervey Johnson Educational Trust for their generous support, and to Dr. Sunghee Lee for including the ITPS in Iona's Month of Excellence*