With Thanksgiving safely behind us, the holiday season is now officially in full swing! This is the time of year for sales, gifts, giving, and New York's famous Fifth Avenue holiday store windows. The Thomas Paine National Historical Association (TPNHA) collection has an artifact related to this holiday shopping tradition, a vintage Lord and Taylor box.
You might be asking yourself, what does a vintage Lord and Taylor box have to do with an archive related to Thomas Paine and the TPNHA? Some artifacts in the collection are stored in one of the Lord and Taylor boxes with the red rose on it. The box contains nails that were once part of Paine's home in New Rochelle, some used candles, some pieces of paper, and several rocks. While the materials related to Paine and the TPNHA are of historical relevance, the floral box has itself gained historical value. Within the last year, Lord and Taylor's flagship store on Manhattan's Fifth Avenue closed, while just a few weeks ago Barney's New York announced they will be closing their flagship as well. It appears that the fancy and luxurious department stores with their famous names, addresses, and holiday windows are on course to becoming a relic of the glittering past. (Though as an exception Nordstrom just opened their first Manhattan store).
This vintage Lord and Taylor box was likely chosen out of convenience. The TPNHA needed a box to hold materials and this one was available, and since there were so many of them around it didn't have much value at the time. With changing retail patterns, however, the box has gained value over time—it now has its own interesting history.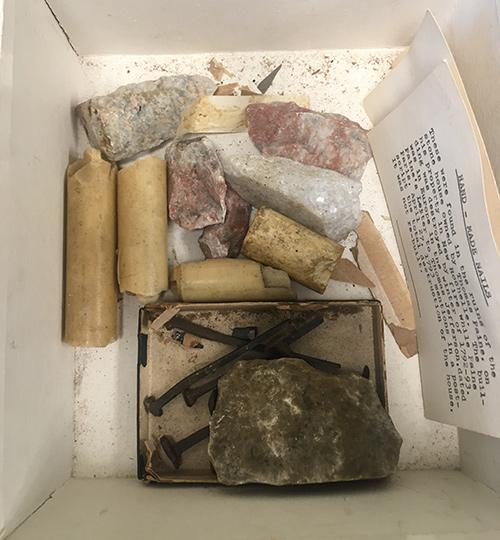 The Lord and Taylor rose was first introduced by Dorothy Shaver in 1946. Shaver became Lord and Taylor's president in 1945, a position she held until her death in 1959—the first woman to hold such a position. The rose on the box is an American Beauty Rose, which became available in the United States for purchase in the 1880s. Shaver introduced this branding as part of her program to promote American fashion, and Lord and Taylor used the rose on all branding until the end of the twentieth century. In 2008, Lord and Taylor reintroduced the rose in its branding, but as a bright orange Sunrise rose. This was then replaced by the Free Spirit rose, a pink, orange, and coral rose in 2016, advertising the nostalgia of the original red rose box.
With department stores like Lord and Taylor closing, their boxes have accrued cultural and nostalgic value even when holding materials related to Thomas Paine. While this box has come a long way from holding a gift, it now serves two purposes: holding materials related to Thomas Paine and his time, and as a symbol of material culture from a not too distant past of shopping on Fifth Avenue or in one of the suburbs that boomed after World War II.
---