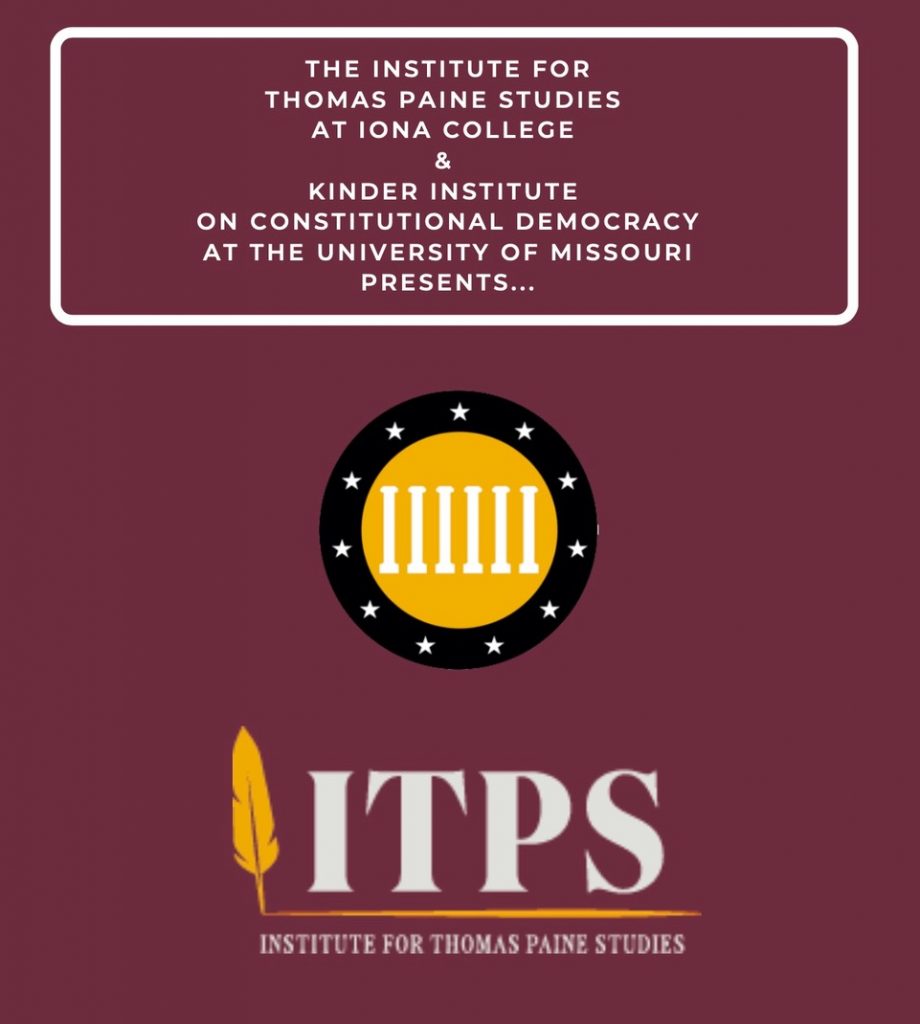 Crafting Narratives of Empire: Contested Roots of Revolution in the Long Eighteenth Century
Hosted by the Institute for Thomas Paine Studies (ITPS) at Iona University and the Kinder Institute on Constitutional Democracy at the University of Missouri
September 22nd – 24th, 2022,
New Rochelle, New York and Virtually via Zoom Webinar
Information for In-Person Attendance
Covid-19 precautions: to ensure everyone's comfort and safety we ask that all in-person attendees remain masked while indoors except for when eating/drinking and/or delivering their own presentations.
In-person conference registration: Attendance is free and open to all. Please register at the following link: https://itps.ticketleap.com/itpskindercon/. All hybrid registrations are session-by-session, and available through the conference program. There will be an onsite registration and information desk in the lobby of Spellman Hall. Presenters and attendees can check in there for their badges, programs, and other items in the conference packet, and if questions arise. For registration and help desk hours, please see the conference program.
Hotel: A block of rooms is reserved at the SpringHill Suites in Tuckahoe, located at 109 Marbledale Road, Tuckahoe, NY 10707, which is a fifteen minute drive from campus (four miles). Rooms are available at a reduced conference rate ($159 per night) with the code "IONA ITPS 2022." Information about rooms and booking can be found on the hotel website: https://www.marriott.com/event-reservations/reservation-link.mi?id=1651762432476&key=GRP&app=resvlink or by calling the hotel at 914-984-9010. Thank you to Casey Dellicarpini in Business services for her help in arranging.
Transportation: Iona University is located one mile (an approximately twenty minute walk and five minute drive) from the New Rochelle Metro North (commuter rail from Manhattan) and Amtrak station. There are regular Iona College shuttles that run to and from the station: if you show the driver your registration information and an ID, you will be able to take the regular shuttle which runs approximately every half hour.
For those staying at the conference hotel, there will be a twice a day shuttle to and from the hotel: approximately one hour before the first session each day and one hour after each session concludes in the evening.
For a map of campus and the surrounding neighborhood, please download here: https://www.iona.edu/sites/default/files/2022-08/IonaUniversity_CampusMap.pdf. Paper copies will also be available in the in-person registration packet.
Technical details: Each conference space will be equipped with desktop microphones, audience microphones, a computer, and screen projectors for presentations, along with streaming devices (computer and camera) for hybrid sessions. If you are using powerpoint, please plan to have that on a portable or online drive for access. Thank you to Blake Kinney for facilitating.
Because of the hybrid nature of many of the sessions, there is an option to record them. The opening book talk, performance, plenary, and keynote will all be recorded, and with approval, shared on the ITPS research portal after the conference concludes. Should you wish your session to be (or not to be) recorded and it is hybrid, please let the organizers know. Non-hybrid sessions will not be recorded. Thank you to Anthony Iodice and Casey Hampsey in Library Media Services for supporting these hybrid options.
Accommodation requests: As noted in our correspondence, please let us know if there are any accommodation requests, including but not limited to physical, culinary, and/or relating to family or childcare responsibilities. There will be vegetarian and gluten-free options at the evening receptions, and coffee, tea, fruit, and pastries in the morning. Please note that lunch on Friday and Saturday is on your own, and there are several restaurants right by campus on North Avenue (all within a five minute walk of the conference location). Thank you to Brandon Oliver in facilities, Chartwells Catering, and John Hynes and the Iona security team.
Social media: You can also look out for updates and other relevant conversations with the hashtag #ITPSKinderCon, follow @theITPS, and @mudemocracy. Please feel free to share widely!
Thank you to the Robert David Lion Gardiner Foundation, the Kinder Institute, and the Provost Office at Iona University for their support.