Co-hosted by the ITPS and Thomas Paine Cottage-Huguenot & New Rochelle Historical Association, "Legacies of the Constitution" was a virtual roundtable discussion to commemorate Constitution Day on September 16, 2021, 6:00PM-8:00PM. The roundtable featured ITPS Scholar-in-Residence Dr. Lindsay Chervinsky, Dr. Sally E. Hadden (Western Michigan University), Dr. Martha Jones (The Johns Hopkins University), Dr. Kate Masur (Northwestern University), and Dr. Jeanne Sheehan Zaino (Iona College), moderated by ITPS Director and Gardiner Assistant Professor of History Dr. Nora Slonimsky.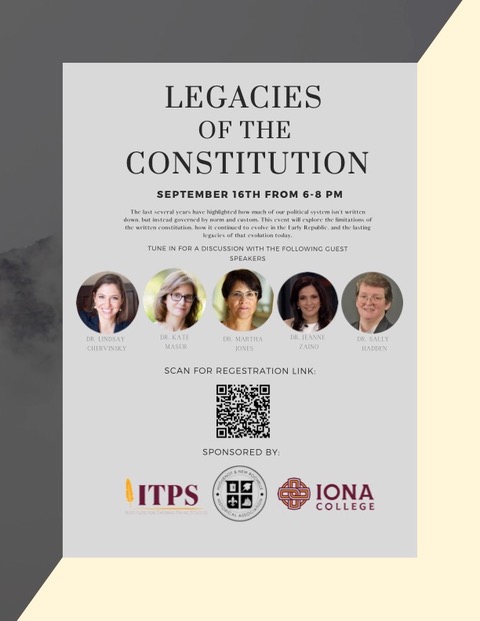 Dr. Lindsay Chervinsky is an expert in the cabinet, presidential history, and U.S. government institutions. Before joining the Institute for Thomas Paine Studies as Scholar-in-Residence, she worked as a historian at the White House Historical Association. She received her B.A. in history and political science from the George Washington University, completed her masters and Ph.D. from the University of California, Davis, and was awarded a postdoctoral fellowship at the Center for Presidential History at Southern Methodist University. Her book, The Cabinet: George Washington and the Creation of an American Institution, was published by Harvard University Press in 2020. Learn more about Dr. Chervinsky and her work here.
Dr. Sally Hadden is an Associate Professor and the Director of Graduate Studies in the Department of History at Western Michigan University. Hadden writes about and researches law and history in early America. She has published one monograph as a solo author: Slave Patrols: Law and Violence in Virginia and the Carolinas (Harvard University Press, 2001). She has co-edited or co-authored three additional books, and is currently working on two projects: a monograph on eighteenth-century lawyers in colonial American cities, and a study of the earliest U.S. Supreme Court (with Maeva Marcus, under contract with Cambridge University Press).
Dr. Martha Jones is the Society of Black Alumni Presidential Professor, Professor of History, and a Professor at the SNF Agora Institute at The Johns Hopkins University. She is a legal and cultural historian whose work examines how black Americans have shaped the story of American democracy. Her most recent book, Vanguard: How Black Women Broke Barriers, Won the Vote, and Insisted on Equality for All was selected as one of Time's 100 must-read books for 2020. Other publications include the prize-winning Birthright Citizens: A History of Race and Rights in Antebellum America (2018), All Bound Up Together: The Woman Question in African American Public Culture 1830-1900 (2007), and multiple articles and essays in both scholarly and public-facing venues like New York Times, Washington Post, the Atlantic, and USA Today.
Dr. Kate Masur, Associate Professor of History at Northwestern Univiersity, specializes in the history of race, politics, and law in the nineteenth-century United States. She is the author of Until Justice Be Done: America's First Civil Rights Movement, from the Revolution to Reconstruction (W. W. Norton, 2021) and numerous other books and articles including An Example for All the Land: Emancipation and the Struggle over Equality in Washington, D.C. (UNC Press, 2010), and, with Gregory Downs, The World the Civil War Made (UNC Press, 2015).
Dr. Jeanne Sheehan Zaino, Professor of Political Science at Iona College, teaches courses in American government, voting, elections, public opinion, political parties, presidency, congress, the courts, civil liberties, constitutional law and research methods. Her areas of specialization are in public sector, government, and media and entertainment. Her experience includes extensive work with public policy building in federal and local state government and higher education entities. In addition to numerous television appearances on outlets such as MSNBC, CNN, and BBC, she recently published American Democracy in Crisis: The Case for Rethinking Madisonian Government (Palgrave MacMillan, 2021).