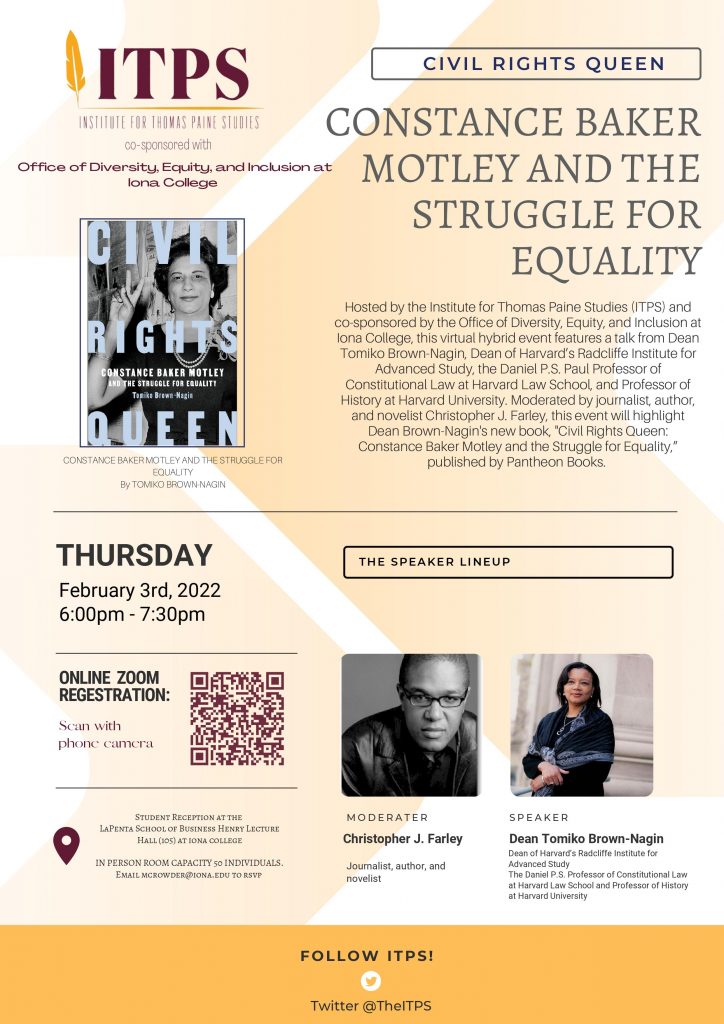 Hosted by the Institute for Thomas Paine Studies (ITPS) and co-sponsored by the Office of Diversity, Equity, and Inclusion at Iona College, this virtual hybrid event features a talk from Dean Tomiko Brown-Nagin, Dean of Harvard's Radcliffe Institute for Advanced Study, the Daniel P.S. Paul Professor of Constitutional Law at Harvard Law School, and Professor of History at Harvard University. Moderated by journalist, author, and novelist Christopher J. Farley, this event will highlight Dean Brown-Nagin's new book, Civil Rights Queen: Constance Baker Motley and the Struggle for Equality, published by Pantheon Books in January 2022.
This virtual event is free and open to all. To register, please scan the QR code on the flyer or follow this link, or follow this link.
Student reception: Safety permitting, there will be an in-person student reception for Iona College students that will livestream the talk. The reception is limited to students at Iona and is at the LaPenta School of Business, Henry Lecture Hall (105). Registration is limited to 50 people. Please email Dr. Michael Crowder at mcrowder@iona.edu to RSVP. Should safety measures necessitate not holding the reception, this will be announced by January 31st.