The Digital Humanities (DH) is a site of interdisciplinary collaboration between scholars of computation, technology, and humanities, a series of tools, methods, and approaches, and a community of practitioners, all connected through the study of similar and overlapping questions. The ITPS supports and collaborates with students, faculty, and interested people around the country in exploring digital humanities, particularly as they relate to the Age of Revolutions, media, information, and data literacies, and to current issues and topics today.
The ITPS is committed to supporting new and ongoing digital humanities projects and research at Iona University. If you have a project or course in mind, please contact us at itps@iona.edu.
---
Current Projects
ITPS Archival Research Database
The TPNHA Collection is a veritable gold mine for academic researchers, teachers, and students across multiple disciplines. Building on the cataloguing of Iona University librarians and ITPS Archival Fellows, the ITPS Archival Research Database will allow these disparate communities to search, analyze, and enhance the records of the TPNHA for their own research, teaching, and learning. The Research Database is being designed and built by Jean Bauer, Ph.D., of Lemon & Eggs Data Design, LLC.
---
Data Science
There is currently a data science minor in development, led by Drs. Fran Bailey and Smiljana Petrovic of the computer science project, and a working group, "Data Science for Future Presidents," which is a collaboration between Dr. Benjamin Gaines of Mathematics, Dr. Sunghee Lee of Chemistry, Dr. Petrovic, Dr. Slonimsky, and Dr. Jeanne Zaino of Political Science.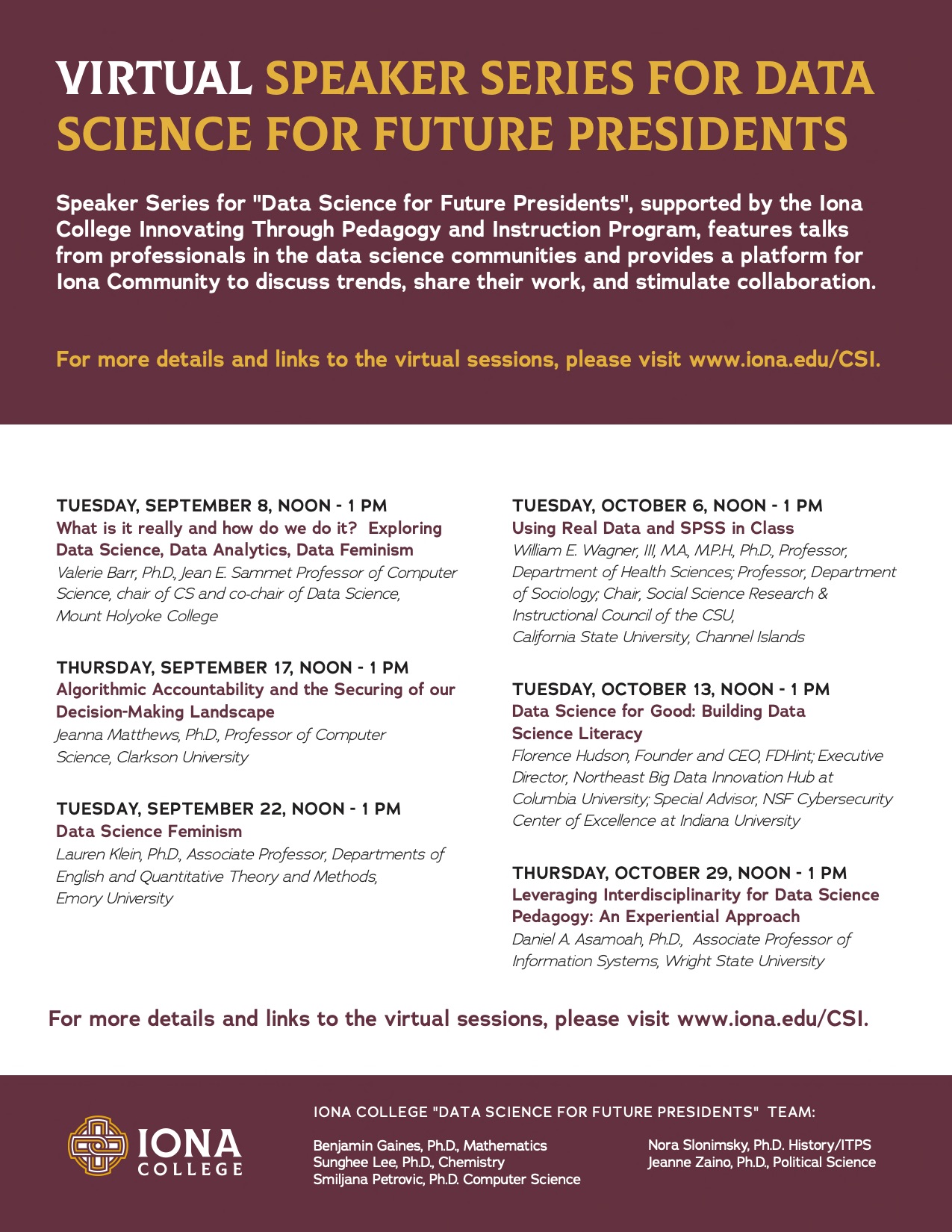 All these talks are recorded and available at the Iona computer science website. For a talk that addressed digital humanities more specifically, please see the session with Dr. Lauren Klein.
---
Recent Digital Humanities Publications
The ITPS community has published a wide range of scholarly and popular historical works. Recent publications include:
The Legacy of Thomas Paine in the Transatlantic World, featuring an essay by Gary Berton.
New Directions in Thomas Paine Studies, eds., Dr. Scott Cleary and Dr. Ivy Stabell.
L.Ivanov, A.Aebig, S.Meerman, "Lexical Stress-Based Authorship Attribution with Accurate Pronunciation Patterns Selection", submitted to Text, Speech, and Dialog (TSD'18) conference, Brno, Czech Republic, 9/18
S.Petrovic, G.Berton, S.Campbell, L.Ivanov, "Attribution of 18th Century Political Writings Using Machine Learning", Journal of Technologies in Society, v.11, issue 3, pp.1-13, 10/15
L.Ivanov, S.Petrovic, "Using Lexical Stress in Authorship Attribution of Historical Texts", Chapter, Lecture Notes in Computer Science: Text, Speech, and Dialogue, v.9302, pp.105-113, 9/15
L.Ivanov, "Collaborative Software Development: The Thomas Paine Encyclopedia", Proceedings of FECS'14, (ISBN #: 1-60132-271-2, pages 394-398), Las Vegas, NV, 7/21-24/2014
S.Petrovic, G.Berton, R.Schiaffino, L.Ivanov, "Authorship Attribution of Thomas Paine Works", Proceedings of the International Conference on Data Mining DMIN'14 (ISBN #: 1-60132-267-4, pages 182-188), 7/12-24/2014